LWS 3D Metal Wire Printing
LWS novel (Patent pending) 3D metal wire printing system is based on laser melted wire deposition, and offers advantages over existing systems:
➢
Object's dimensions are not limited – vacuum chamber not needed.
➢
Wire used is available and compiles with existing standards (AWS, AMS, etc.).
➢
Stainless Steel, Alloyed Steel, Titanium, Bronze, Nickel and Cobalt Alloys, etc.
➢
Productivity depend only on laser power
➢
Single session can include two or more types of materials and/or wire diameters.
➢
Ability to print on existing pre-machined or printed parts.
➢
Deposited material quality is as good as filler wire.
Laser Metal Deposition - WIRE
➢3D manipulated laser is used to melt the surface of a substrate, creating a localized pool of molten metal into which a metal wire is fed to form a bead. The melt pool is manipulated along a 3-D path to create a net-shaped (or near-net-shaped) component bead by bead onto the substrate in layers
➢
The process is highly efficient compared to current powder based Additive Manufacturing methods, which waste an enormous amount of expensive raw materials.
➢
LMD-W process is ready and already applied on several applications. We continue our development to extend the scope of applications.
Our Technology – LMD-W by LWS
➢
Fast : > 5 Kg /h (with 2kW Laser)
➢
Enables deposition on all 2D axes
➢
Using all standard metal wire with diameters of 0.4 mm to 2 mm or
thicker (depending
on laser power)
➢
Enables two (or more) different wire material or diameter at the same printing session
➢
No limited working area since no chamber or vacuum is needed
➢
The throughput of the system depends only on laser power
➢
Printing head can be installed on Robotic Arm
➢
The Metallurgy of the printed parts are similar to the wire material
➢
The printing results are compatible with welding

 

standards as AWS 17.1 and AWS 1.1
Application opportunities
➢
Design a new manufacturing sequence using a combination of manufacturing processes that reduces cost, material usage, work in progress, and cycle time
➢
The system can be implemented as a stand alone unit in metalworking factory to produce near-to-shape semi-finished parts, or may be implemented in a multi-axis metalworking machine as a integral part of the process.
➢
Users can select a part build strategy (including pre-machined parts, geometry of deposition, path planning, deposition rate, etc.) and combine it with a finishing strategy
➢
Printing can be done on existing parts

➢
Easy switching between different materials

➢
Versatile structure design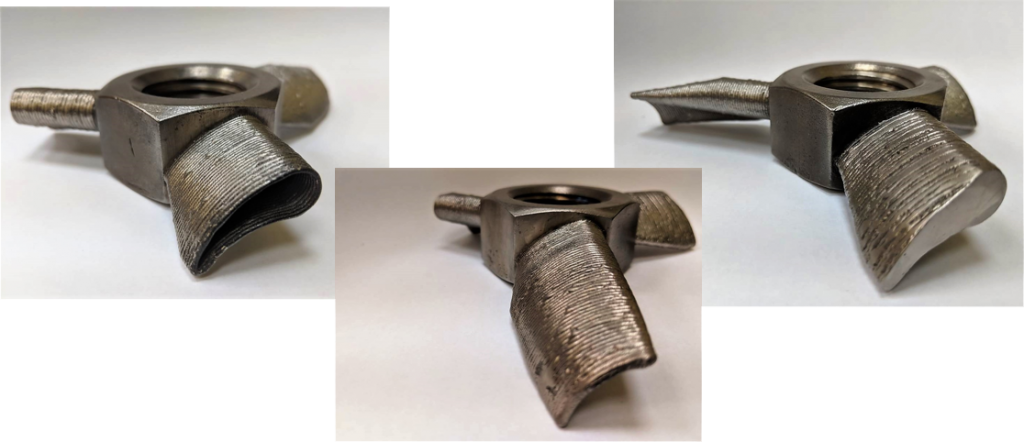 ➢
Complex design with added structure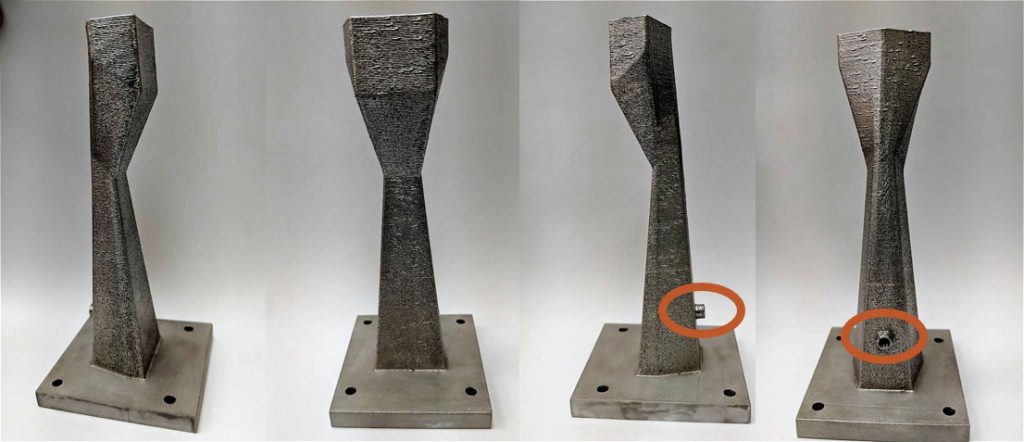 ➢
No evidence of lack of fusion, pores or material oxidation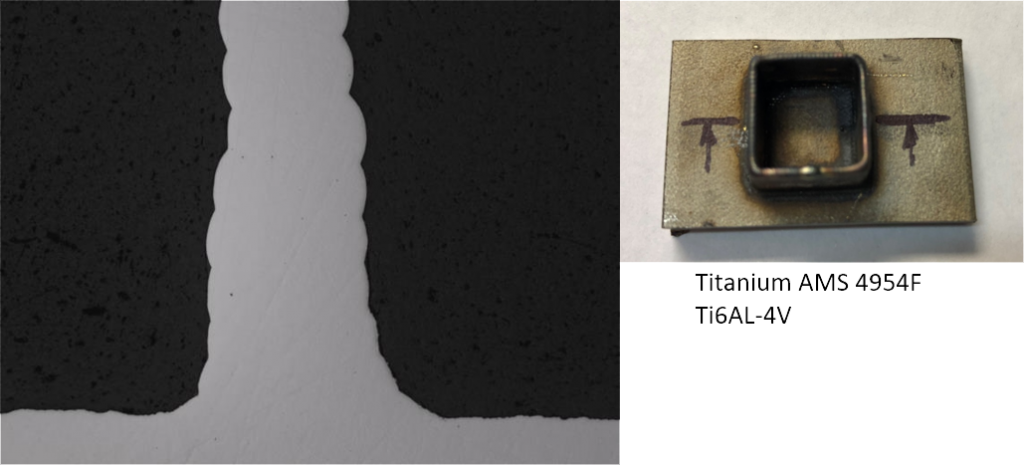 ➢
No evidence of lack of fusion, pores or material oxidation

➢
No evidence of lack of fusion, pores or material oxidation

➢
Bronze on Stainless cooling channel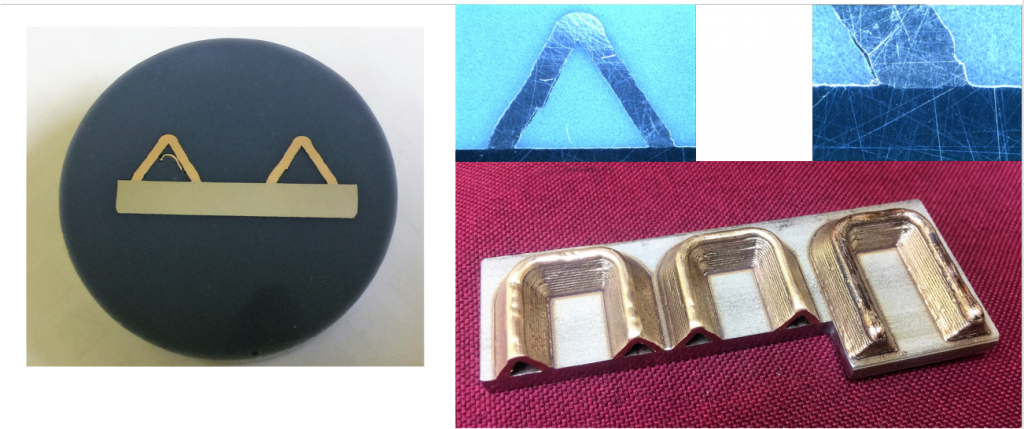 ➢
Tilting & Rotating Table (500mm diameter)
➢
2 Wire Feeders 0.6-1.6mm wire diameter
➢
Melted pool temperature control
➢
In-process dimensional
control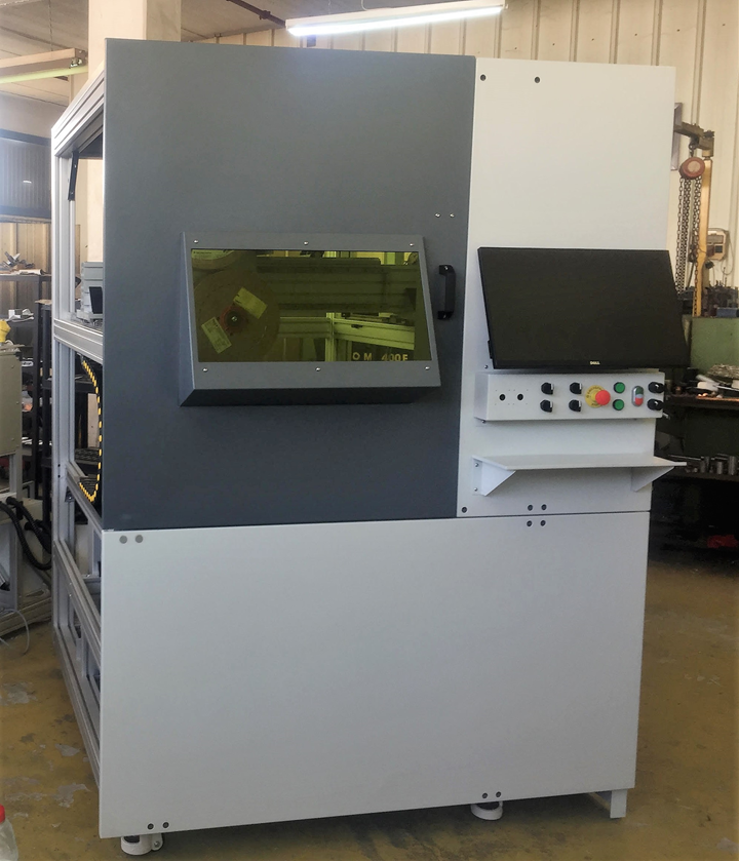 ➢High deposition rate > 5 Kg/hour ( with 2 Kw  laser)
➢
Deposition Rate depends only on Laser power 
➢
Very good metallurgical structure:
like a
good welding
➢
Can
use different material ( SS, Bronze, Titanium, Alloy Steel …)
➢
Can use different wire
material
at same session
➢
Wire sizes 
0.6-1.6
mm ( with 2 kw laser) or higher diameter, depend on laser power
➢
No limitation on printing size ( no vacuum chambers)
➢
Very cost effective system